Do you want an app that shows you when you have your high fertile days and to get pregnant with the help of this information? Then I'll show you a potential LadyCycle App you can use.
Today, I'm testing the latest version (2.7.0) of the Lady Cycle app for Android devices for all readers of this blog. In this report, I check different things of the Lady cycle app and end up giving a total conclusion. I take a close look at the technical implementation and design of cycle documentation, the price-performance ratio, fertility display and support.
Technical implementation and design of cycle documentation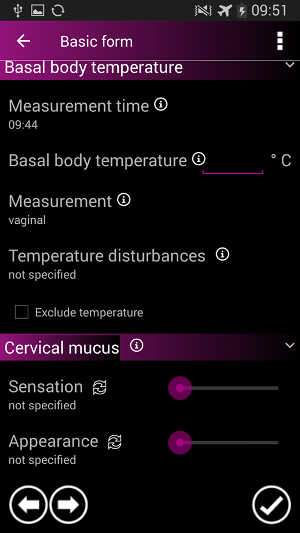 I installed the Lady Cycle app on my Android phone (Samsung) and opened it shortly afterwards. So far everything just works really great. Right at the beginning, the app asked me some questions about my cycle to get started right away and document the first cycle. The crucial question, of course, is, "When was the beginning of your last menstrual period?." This is what the Lady Cycle app needs at least to create a new cycle. No sooner said than done, I also did that. At first, I was very impressed by what I can enter in the app. There are so many cycle-related fertility signs that I've lost track of things a bit. On my analogue cycle sheet, the possibilities of registration seem to be a little clearer to me. But luckily, I was able to find a setting option in the app that allowed me to choose between basic and advanced registration. I chose the basic option because I prefer to make it clearer and otherwise the many other things will unnecessarily distract me.
The most important entries, such as those of the cervical mucus, cervix and basal temperature, work very well and have been technically implemented with sliders. I personally find the cycle representation still in need of optimisation – the design could be a bit nicer and more readable at this point. I don't think the scaling of the cycle days has been successful. For example, I can not easily see on which cycle day I entered which temperature. In general, I think the cycle representation in the Lady Cycle app is not well suited during long cycles (longer than 35 days). So right now, if I want to look at a pregnancy cycle from start to finish (birth), it is over 200 days long and therefore not very nice to see because the cycle is always compressed to the display size, no matter how long it is (see Photo). I think it's great that the colors and design on the home screen can be customized. And if you need the app in a different language, you can choose between seven different languages: German, Swiss German, English, Spanish, Russian, Dutch and French.
Fertility indicator of the Lady Cycle app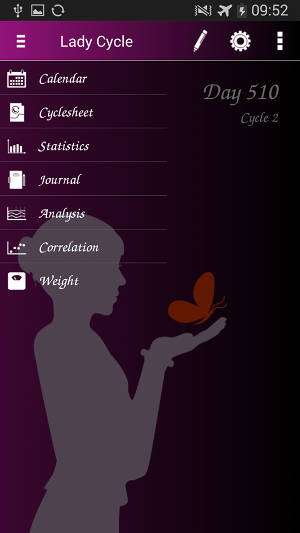 You can decide whether you want to get a pregnancy or want to avoid it. Depending on that, the Lady Cycle app will then show you different information. For example, on the home screen you will see the day of fertilization, in case you have become pregnant in the current cycle, and also the current week of pregnancy will be displayed. If you're still in the cycle phase just before ovulation, the Lady Cycle app will tell you when it's best to have sex to get pregnant.
This has been fully implemented, with the butterfly taking off in the woman's hand on the home screen and starting to fly – I find this an apt and great picture for the highly fertile days. The Lady Cycle app strictly adheres to the evaluation rules of the Symptothermal Method, which I myself support and whose method rules you can read and learn in self-study in my eBook "When am I fertile?". For this reason, the Lady Cycle app also gives you a scientifically tested and very good fertility indicator, provided you have learned the method rules correctly. Because even apps can't replace everything, for example, they can not replace common sense – only you can virtually assess whether or not your basal body temperature has been affected by anything on the current day. The app does not know your normal daily routine and therefore cannot assess whether something deviates from this daily routine, which may have changed your wake-up temperature. As a user, you still have to enter this information yourself and learn how to interpret it beforehand. The same applies to the registration of cervical mucus and cervical observation. So the Lady Cycle app assumes that the user understands what they have to enter there. Otherwise, the fertility indicator may not display proper information about the fertile period in the cycle.
Price-performance ratio of the Lady Cycle App
The Lady Cycle app is completely free and there is no internal advertising. The app's funding is solely through donations. You can find out exactly how you can donate money in a menu item within the app. Well, so I would say that the price-performance ratio cannot be topped. Great – for a free app you get a very good fertility indicator to get pregnant as soon as possible.
Support for the Lady Cycle App
The support with the Lady Cycle app is really uniquely good! The co-founder of this app is herself a convinced and meticulous user of the Symptothermal Method and is therefore really knowledgeable. When you write to the support, you get a competent answer and it also relatively quickly if you write to the support, you get a competent answer and this relatively quickly. However, since the Lady Cycle app is funded solely by donations, you can probably imagine that support cannot substitute advice for the Symptothermal Method. In other words, if you haven't properly learned the method yet, support can't explain everything to you from the beginning. For that, you would have to read a book at least once. However, if you have noticed something special in your cycle you can probably ask what that means or if you have a technical question. In that case, you will certainly get a quick and nice response.
My overall conclusion of the Lady Cycle app
Overall, I can fully recommend the Lady Cycle app for cycle documentation for all Android devices. The design on the home screen is well implemented by your own choice of color and makes you desire to start with the cycle observation. The entry fields and options are also very well thought out and worked out. The fertility indicator is really great and clearly adheres to the rules of the Symptothermal Method. If you get pregnant with the help of the Lady Cycle app, the app will show you that right away and you'll know immediately. So then what are you waiting for? Grab my Get Pregnant Starter Set," install the Lady Cycle app install the Lady Cycle App and off you go…
Wishing you a nice and fertile day
Your Anne