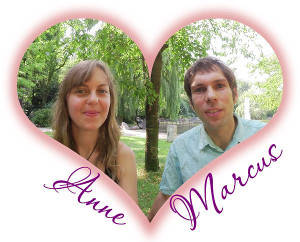 Cordial Welcome
Here are Anne and Marcus and we would like to welcome you to our fertility Blog. If you want to get pregnant naturally, then you are exactly at the right place here. Why? Quite simply, because on this website we have compiled in almost 500 articles a great knowledge about natural fertility and fertility awareness. We want to help you to fulfill your big dream of Getting Pregnant Naturally in a natural way.
Our Get Pregnant Story
Marcus and I came together in the year 2008. Since 2009 we have been dealing with natural methods of fertility and cycle observation with great interest. In the summer of 2011, The desire for childbearing became an issue for us. Initially, only Marcus was the one who desperately wanted a child. I was still very undecided. So for half a year, we did not so strictly prevent Coitus Interruptus in the highly fertile ovulation period – but still, I did not become pregnant.
A further education on the subject of "unfulfilled desire to have children" should completely change my thinking, because when I learned what other couples are already doing for their greatest happiness, wishing for a biological child and what it means to be childless – I wanted to become pregnant myself and Get a child. A life without children, I suddenly could not imagine any more. I realized that only then. Before I thought of many other things, such as enough income, super furnished apartment or perfect time, then when I feel ripe for it etc. Maybe you know this way of thinking, too? In theory, I would have been able to draw my indecision on getting pregnant for years if it hadn't been for this training that made me realize that. If you don't get kids now – at the "Best Age" – we were 26 (me) and 29 (Marcus) then when???
Sure, our situation was not optimal, because we had just finished studying, had no money and no steady job. But we were in a biologically optimal age. So we decided in the same cycle to have sex for ovulation and to jointly invite a child to come to us.
Well, and what should I say, that actually worked in the said cycle! So I immediately became pregnant and our desired child was born in October 2012 in the birth house. Now many will say, but you have been very lucky. And yes, a little luck I actually had to get pregnant in the first cycle. But it was not that unlikely either, because in Fertility Awareness methods – that is, methods of body observation, Studies show that, 81 per cent of couples become pregnant within the first six months.
Marcus and I firmly believe that the majority of couples who have been trying to get pregnant for a long time can also make it through the way of body observation. In conversations with women and men, we are always amazed at how many couples are declared infertile by their doctors. Most are then sent relatively quickly to a childbearing center including reproductive medicine. And if after some attempts it still did not work out, some then try again the natural way and in most cases actually become pregnant within a few months using the cycle observation method! In order that knowledge about natural fertility can also help you become pregnant, we write articles and shoot videos with full passion and dedication. This blog is the English version of our German-language success blogs, which now reaches more than 50,000 visitors per month and is growing in popularity. We wish you all the best, that your greatest dream of bearing a child will be fulfilled soon.
Sending you fruitful greetings
Anne & Marcus
Connect with us
On our channel Fertility TV, we publish one or two videos about How To Get Pregnant Naturally. If you feel like it, just check it out.
We are relatively active on Facebook and operate a fan page where we share our articles and videos with people as well as a facebook group on the topic of childbearing, in which affected couples can exchange among themselves.
We are posting interesting images about fertility awareness, the menstrual cycle and motivating quotes to get pregnant.
We share our best articles and images via Twitter and discussing about naturaly fertility and natural methods to get pregnant
CONTACT
For interviews, guest articles and cooperation you can contact us by phone or e-mail.