Get pregnant with PCO, how does it work? Learn how other women have fulfilled their dream of the desired child despite PCOS symptoms.
Can I get pregnant, despite diagnosed with PCOS? I get asked this question very often as a fertility expert and the answer is YES. I have accompanied countless women with PCO on the path to the desired child. I know it's possible to get pregnant despite PCO. In this article, I want to show you how this can work. The first step to get pregnant despite PCOS is to first of all understand exactly what PCO is and what the "PCOS diagnosis " means for your cycle and fertility. Then I will show you how many women have become pregnant naturally.
What is PCO?
PCO is one of the most common metabolic diseases in sexually mature women. Experts believe that about 4 to 12% of women are affected with Polycystic Ovary Syndrome (PCO or PCOS). Even though PCO syndrome is very common, it remains unrecognized in many women. For this reason, I'd like to emphasize on the following typical PCO symptoms, so that you can see for yourself whether it's advisable to get examined in more detail in a medical practice.
PCOS symptoms
Now, in women diagnosed with PCOS, three typical symptoms and observations are very common:
Cyst formation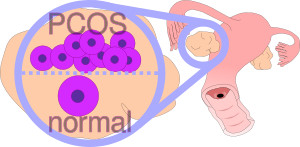 Women with PCOS often develop many highly visible cysts in their ovaries – the cysts can be detected as black dots via ultrasound. The more the cysts, the more influence there is on the hormonal balance and thus on the cycle – which would have led to the second symptom
Menstrual cycle
As a rule, unusually long cycles occur in women with PCOS, during which the maturation phase is extremely prolonged. Normally, the cycle duration ranges from 23 to 35 days, which means that this cycle length typically occurs in most women. In women with PCOS, partial cycles of more than 100 days are not uncommon.
Increased hormone level in male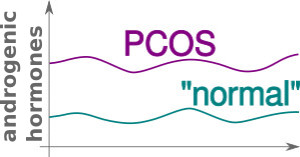 In women with PCOS, an increase in male hormones – androgens – are more likely to be observed in the hormone blood test. Sometimes it's evident from the elevated androgen level externally, for example, the affected woman has excessive hairs on the body and back. Increased in weight is rarely observed.
Can you get pregnant with PCOS naturally?
By the way, the chances of getting pregnant naturally despite PCOS are not so bad, as studies from 2014 shows that a 44-year-old woman with PCOS is just as likely to be childless as a woman without PCOS. However, the study also shows a big difference – namely that an extended family of more than three children is significantly less likely if the woman has PCOS.
The causes are totally logical. Assuming that the average cycle of a healthy woman lasts about 30 days, then a woman without PCOS produces about 400 healthy cycles in which she can get pregnant, throughout her life. Now, let's imagine that a woman's cycle lasts 30days, but for example 60 days. As a result, this woman has only 200 healthy cycles left in life to get pregnant. The number of cycles in which she can get pregnant has been reduced by half. Taking into account that many women only try to get pregnant for the first time from the age of 30, the number of remaining fertile cycles will be greatly reduced.
How can you get pregnant despite PCOS?
Well, it's quite logical. When you have PCOS, you then have fewer cycles as to healthy women to get pregnant. So it's advisable to use each cycle effectively and optimize the natural fertility potential. This is exactly where Symptothermal Method is often used, because with Symptothermal Method, the most fertile days as well as ovulation can be effectively narrowed down to a few days in each cycle. Thus, thanks to Symptothermal Method, you can't miss any ovulation or a fertile phase and you can use every cycle. I've witnessed countless pregnancies on this path and I'd like to examine Briana's cycle closely, who was diagnosed with PCOS a few years ago. Briana learned Symptothermal Method with our eBook  "WHEN AM I FERTILE?"
Pregnancy Cycle PCO – Example
The cycle starts with bleeding and has a typical prolonged ovulation phase. But suddenly around the 47th day, the temperature rises and also typical changes in mucus, so that you could determine ovulation on the basis of the Symptothermal Method rules, which are also described in detail in our eBook. Of course, she had sexual intercourse at the optimal time just before ovulation to get pregnant. As bleeding was absent – she took an SS-test on the 63rd Cycle Day, which turns out to be positive. She got pregnant in the first Symptothermal Method cycle and wrote us the following feedback:
"Dear Anne, dear Marcus,
I'm writing you this mail because I still can't believe it. I'm pregnant! And you have contributed significantly to this. I'd like to thank you from the bottom of my heart. Straight to my story: I've been using the pills for about 2 years and have not had my period for quite a long time. And if then only every 2 to 3 months. The gynaecologist noted PCO. But it was clear to us that the path to the fertility clinic was a wrong one. I then looked at the Symptothermal Method and accidentally came across your YouTube channel and was intrigued. I then signed up for your online video course "When am I fertile?" I am very happy to have joined. It's an asset to me. I also read your eBook and it was very understandable.
I really started registering and observing in March (last period on March 25). On September 9, I had a normal gynaecologist appointment and found that an egg has matured. This was consistent with the cervical mucus I showed the gynaecologist before she did the ultrasound. Ovulation must have taken place after that day. So, it actually worked out.
Thanks much
Your fertility fan"
Briana
My conclusion
Well, what can we learn from Briana's cycle? Yes, it's possible to get pregnant naturally despite PCOS and extremely long cycles. Studies also shows that women with PCOS have a greater chance of having a child. Of course, the chances of getting pregnant, aren't bad if you make the optimal use of your cycles. To this end, the Symptothermal Method is an important tool. To learn Symptothermal Method as best you can and apply it correctly, we always recommend attending a course or reading a good book. However, the example also shows clearly that visiting a doctor or health care professional and using Symptothermal Method is not a contradiction, but can also be a useful complement. Thus, because the diagnosis of conventional medicine is very good – this is the only way PCOS could be diagnosed beyond a reasonable doubt. The woman became pregnant thanks to Symptothermal Method without reproductive medicine and medication or hormonal therapy as conventional medicine recommends in such cases. Of course, one can't conclude from this case on the general public, but this case shows the incredible potential of natural fertility and its observation. With this in mind, I wish you all the best on your path to the desired child!
Yours Anne